Product Description
Ventilator shell: made of hot-dipped galvanized sheet which has spray painted automobile coating on its surface
Impeller: made of aluminum casting alloy blades.
Fan guard: dusting, zinc coating
Switch: Push button.
Intergrated plastic handle for easy carrying.
Motor: It is wrap around with international standard copper wire
With radiating rib aluminum casting integrated motor shell.
Application
Exhaust and supply flesh air in remote or deep operating zone, confined space construction and other bad air environment.
Exhausting welding waste gas, smoke, dust, the smell of paint during shipbuilding and maintenance.
Field of machinery, chemical industry, plant warehouse, underground sinking and driving engineering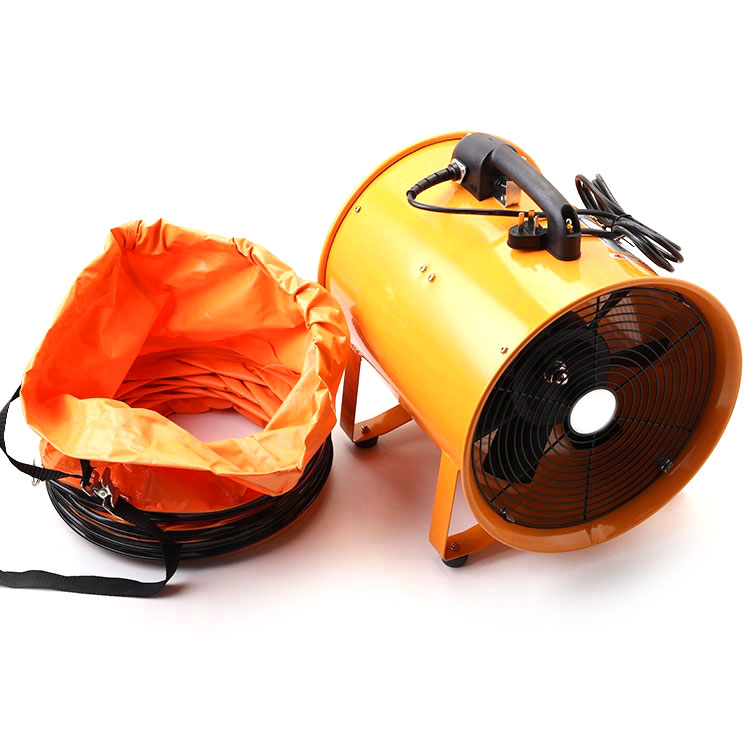 Technical Parameters
| | | | | | | | | | |
| --- | --- | --- | --- | --- | --- | --- | --- | --- | --- |
| Model No. | Diameter | Voltage | Phase | Frequency | Speed | Power | Air Flow | Static | Noise |
| SHT | mm | v |   | Hz | rpm | W | m3/min | pa | dB(A) |
| SHT-20 | 200(8") | 220 | 1 | 50/60 | 2800 | 230 | 25 | 245 | 63 |
| SHT-25 | 250(10") | 220 | 1 | 50/61 | 2800 | 320 | 43 | 294 | 68 |
| SHT-30 | 300(12") | 220 | 1 | 50/62 | 2800 | 520 | 65 | 373 | 71 |
| SHT-40 | 400(16") | 220 | 1 | 50/63 | 2800 | 1100 | 96 | 700 | 80 |
| SHT-50 | 500(20") | 220 | 1 | 50/64 | 2800 | 2000 | 200 | 1050 | 88 |
| SHT-60 | 600(24") | 220 | 1 | 50/65 | 1400 | 2200 | 240 | 1100 | 92 |